Who's Language Barrier?
As a person given to pride, too often my focus is on myself.  I'm at the center of the stories I create in my head.  Upon reading the Bible, however, I learned (and continue to learn) that everything is about God.
I'm made to love, worship, glorify and commune with Him (as is everything else that's created).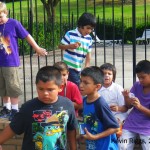 As I was going over a story I'm going to share with some kids about how God is close to us at all times and in all places I realized I was letting my thoughts about speaking Spanish creep up on my thoughts of how my powerful God is working in these kids' lives.  He's working to grow families that honor Him and share His love for people.  He's working to liberate families from social and financial fear and crushing burdens.  He's working to free homes from the destruction sin brings.  He's working to infuse lives with His love so that everyone in every language and culture hears about Jesus' love and His power to set sinners free from the penalties of sin.  He is providing for them every day.
Jesus is compassionate; if ever anyone had the authority to hate or condemn, then Jesus is at the front of that line … but He gives grace and forgiveness.
Jesus is gentle; if ever anyone had the authority to ground others under his rule, then Jesus is at the front of that line … but He gives mercy.
Jesus is faithful; if ever anyone had the right to react out of fear, then Jesus is at the front of that line because we, His creation, killed Him … but He stood strong through every test while He walked the earth and He continues to be constant in His unending and unwavering love for us.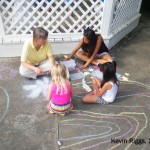 If I speak with the tongues of men and of angels, but do not have love, I have become a noisy gong or a clanging cymbal.
If I have the gift of prophecy, and know all mysteries and all knowledge; and if I have all faith, so as to remove mountains, but do not have love, I am nothing.
And if I give all my possessions to feed the poor, and if I surrender my body to be burned, but do not have love, it profits me nothing.
Love is patient, love is kind and is not jealous; love does not brag and is not arrogant,
does not act unbecomingly; it does not seek its own, is not provoked, does not take into account a wrong suffered,
does not rejoice in unrighteousness, but rejoices with the truth;
bears all things, believes all things, hopes all things, endures all things.
Love never fails; but if there are gifts of prophecy, they will be done away; if there are tongues, they will cease; if there is knowledge, it will be done away.
For we know in part and we prophesy in part;
but when the perfect comes, the partial will be done away.
1 Corinthians 13:1-10 NASB
Their faith shouldn't be like mine; mine should be like theirs.  Complete dependence on God just as they depend on others.  If they've discovered how we, people, let one another down then they need to hear that God is with them, always seeing and always loving.  We may not understand Him but faith doesn't require that we know everything about Him, how He works or why He does what He does.  I've grown up and heard the world tell me that I must do this or that; I must produce results; if I want something I must make it happen.  They know better the calm dependence on others.  They understand faith, the only thing I can offer is to point out in whom to have faith: their loving Creator.  The God of Abraham, Isaac and Israel.
Categories:
Attitude, Know God
compassion, faith, fear, Forgiveness, gentleness, grace, Jesus, love, mercy, pride, trust