David Understood His Place Before God
Then David praised the LORD in the presence of the whole assembly: "O LORD, the God of our ancestor Israel, may you be praised forever and ever!
Yours, O LORD, is the greatness, the power, the glory, the victory, and the majesty. Everything in the heavens and on earth is yours, O LORD, and this is your kingdom. We adore you as the one who is over all things.
Wealth and honor come from you alone, for you rule over everything. Power and might are in your hand, and at your discretion people are made great and given strength.
"O our God, we thank you and praise your glorious name!
But who am I, and who are my people, that we could give anything to you? Everything we have has come from you, and we give you only what you first gave us!
We are here for only a moment, visitors and strangers in the land as our ancestors were before us. Our days on earth are like a passing shadow, gone so soon without a trace.
"O LORD our God, even this material we have gathered to build a Temple to honor your holy name comes from you! It all belongs to you!
I know, my God, that you examine our hearts and rejoice when you find integrity there. You know I have done all this with good motives, and I have watched your people offer their gifts willingly and joyously.
"O LORD, the God of our ancestors Abraham, Isaac, and Israel, make your people always want to obey you. See to it that their love for you never changes.
Give my son Solomon the wholehearted desire to obey all your commands, laws, and decrees, and to do everything necessary to build this Temple, for which I have made these preparations."
Then David said to the whole assembly, "Give praise to the LORD your God!" And the entire assembly praised the LORD, the God of their ancestors, and they bowed low and knelt before the LORD and the king.
1 Chronicles 29:10 – 20 NLT
I revisit David's prayer from when he recognized Solomon as his successor to the throne and dedicated the materials for the building of God's temple.
Last time I looked at this I was focused on how much David understood about God's desire for brokenness in the heart of His people.
Today's meditation, though, is on another truth that David acknowledges before God; that all we have comes from Him.  Other authors in the scriptures say this more directly, more didactically but not more decisively than David in his prayer.
It's easy to get sidetracked, thinking that we earned something.  Earning things is human nature and here in America we think we invented the concept.  Capitalism and good deeds are extolled here and people love the "if you don't work, you don't eat" mentality.  To be fair, God does require industry from us.  The difference in God's expectation and man's is that we think we have an effect on the outcome.  As David points out, God makes people great and gives strength, people don't put in the time and earn it for themselves.
If you give tithes, offerings or charitable gifts out of whatever abundance you have David's statement is clear that it all comes from God.  You wouldn't be able to do anything or gain from anything you do without Him.
This shouldn't disincentivize anyone.  God had Adam work even before He gave him a partner in Eve.  Here are some things that Paul tells us about how we're to work:
There are many more verses in both the Jewish Testament and the New Testament that tell us to work but none of them contradict the truth David took hold of here: that all we have comes from God.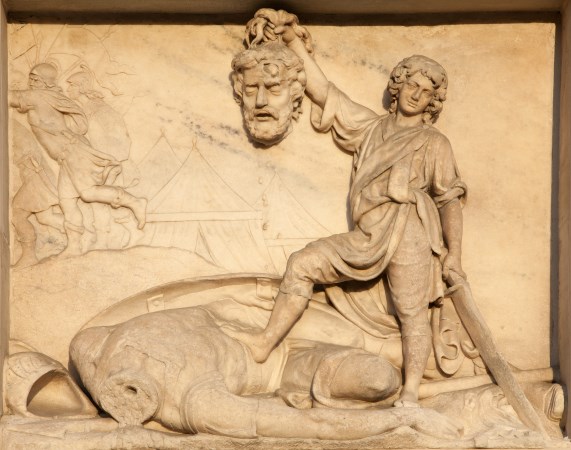 We have to keep in mind that "power and might" are in God's hand, not ours.  It is at His discretion who and when He will lift up.  David claims before God that He, God, determines whom He will make great and give strength.  At this statement I remember a man, before whom David appeared powerless.
Then Goliath, a Philistine champion from Gath, came out of the Philistine ranks to face the forces of Israel. He was over nine feet tall!
He wore a bronze helmet, and his bronze coat of mail weighed 125 pounds.
He also wore bronze leg armor, and he carried a bronze javelin on his shoulder.
The shaft of his spear was as heavy and thick as a weaver's beam, tipped with an iron spearhead that weighed 15 pounds. His armor bearer walked ahead of him carrying a shield.
Goliath stood and shouted a taunt across to the Israelites. "Why are you all coming out to fight?" he called. "I am the Philistine champion, but you are only the servants of Saul. Choose one man to come down here and fight me!

…

Goliath walked out toward David with his shield bearer ahead of him,
sneering in contempt at this ruddy-faced boy.
"Am I a dog," he roared at David, "that you come at me with a stick?" And he cursed David by the names of his gods.
"Come over here, and I'll give your flesh to the birds and wild animals!" Goliath yelled.
David replied to the Philistine, "You come to me with sword, spear, and javelin, but I come to you in the name of the LORD of Heaven's Armies–the God of the armies of Israel, whom you have defied.
Today the LORD will conquer you, and I will kill you and cut off your head. And then I will give the dead bodies of your men to the birds and wild animals, and the whole world will know that there is a God in Israel!
And everyone assembled here will know that the LORD rescues his people, but not with sword and spear. This is the LORD's battle, and he will give you to us!"
As Goliath moved closer to attack, David quickly ran out to meet him.
1 Samuel 17:4-8  and  17:41-48
David appears to have understood the truth of his dependence upon Jehovah, God of his ancestors Abraham, Isaac and Israel throughout his life.  Both as a young shepherd wearing robes and armed only with his staff and sling against a nine foot tall giant in battle armor and as an accomplished warrior himself at the end of his life having been blessed with success over his enemies by God's hand.  David exemplifies how we are to work diligently and yet lean wholly on our awesome God who will deliver us.
Even with all the coolness of David's understanding about God's desire for our brokenness, his faith in God and his understanding of his true place in God's existence, David was only a man.  To find salvation we must seek God who came to this earth as a man, lived a sinless life, gave Himself sacrificially to pay for the penalties of our sins and arose alive again to demonstrate His almighty power over sin and death.  Jesus is the only name by which a person can be saved.  He alone has the power of salvation in His holy hand.