Wake Up Call to Warfare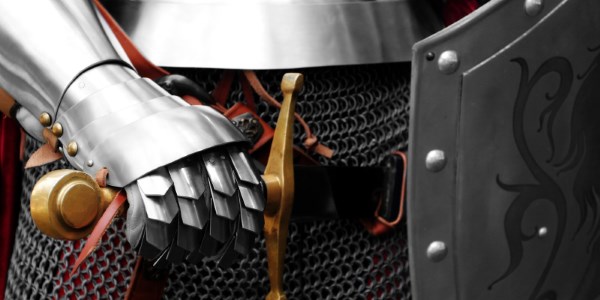 Finally, be strong in the Lord and in the strength of his might.
Put on the whole armor of God, that you may be able to stand against the schemes of the devil.
For we do not wrestle against flesh and blood, but against the rulers, against the authorities, against the cosmic powers over this present darkness, against the spiritual forces of evil in the heavenly places.
Therefore take up the whole armor of God, that you may be able to withstand in the evil day, and having done all, to stand firm.
Stand therefore, having fastened on the belt of truth, and having put on the breastplate of righteousness,
and, as shoes for your feet, having put on the readiness given by the gospel of peace.
In all circumstances take up the shield of faith, with which you can extinguish all the flaming darts of the evil one;
and take the helmet of salvation, and the sword of the Spirit, which is the word of God,
praying at all times in the Spirit, with all prayer and supplication. To that end keep alert with all perseverance, making supplication for all the saints,
and also for me, that words may be given to me in opening my mouth boldly to proclaim the mystery of the gospel,
for which I am an ambassador in chains, that I may declare it boldly, as I ought to speak.
Eph 6:10-20 ESV
When the alarm went off I awoke with my wife in my arms, dreaming healthy, wholesome thoughts but I was under attack.
My enemy was trying to remind me of unrighteous things from my past. I was attacked so I would feel shame of sins already forgotten & not the unburdened joy I should experience in Christ's forgiveness & God's beautiful plan of peaceful love between husband & wife.
Just as I awoke a thought was drawn into my mind of something that doesn't characterize my love or our relationship & it was a masterful opportunity for me to feel shame, to belittle the power of the grace that's been poured so abundantly over my life  … but God.
But God is my righteous defender; He is my redeemer.  His salvation, the righteousness to which He leads me for His name's sake, the commitment to truth He teaches me to seek … He is my protection & I glory in His power.
My enemies surround me as I sleep, as I rise, as I walk through the day.
To God's glory and by His grace I can put to death my unredeemed flesh & seek to follow Him & His precepts but I'm engaged in a battle within my heart & mind. My God is my protector. His peace comforts me. My enemies seek to kill, steal & destroy but my God is the author of life; He is the living God who redeems & restores; He transforms lives for His name's sake. He is Jehovah. I rest in Him.
I seek to humbly clothe myself in His armor for His glory.  My protection & the blessings that fall upon those around me are from His power being demonstrated righteously in my life.
Categories:
Following God's Prescriptions, Seeking Holiness, Worship
armor, battle, battlefield, blessing, but God, defender, Ephesians, God, heart, help, Jesus, mind, protection, salvation, war, warfare