Fruit Inaction?
J
oy, peace and patience.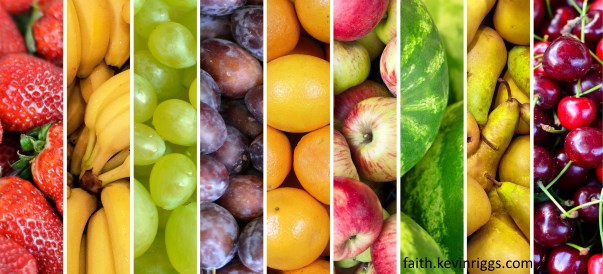 In a recent small group session we discussed ways we can see how David fit into God's greater plan, including some of David's Psalms.  King David is credited with over 70 psalms, almost half of the psalms in the Bible.  In one of his first, Psalm 59, David tucks a clause in that struck me.
O my Strength, I will watch for you, for you, O God, are my fortress.
Psalm 59:9 ESV
When he wrote this David was probably between 16 and 20 and running to save his life.  He'd been anointed as the next king but his predecessor, King Saul, was still on Israel's throne and had tried to kill David in fear.
But when Saul saw and knew that the LORD was with David, and that Michal, Saul's daughter, loved him, Saul was even more afraid of David. So Saul was David's enemy continually.
1 Samuel 18:28-29 ESV

Then a harmful spirit from the LORD came upon Saul, as he sat in his house with his spear in his hand. And David was playing the lyre. And Saul sought to pin David to the wall with the spear , but he eluded Saul, so that he struck the spear into the wall. And David fled and escaped that night.
1 Samuel 19:9-10 ESV
David ran away.  He had already killed the giant, Goliath, and he'd proven himself a successful and popular commander of Israel's army yet he fled from God's current king in real fear.
For 14 years Saul sought to kill David and David repeatedly turned to God while he was running.
David hid from Saul in Gath, a Philistine town, but the Philistine king's advisors recognized him and took him to their king where David acted crazy and he was let go as a madman.  After getting away from Achish, who was his second royal enemy, David wrote Psalm 34 where he says
Of David, when he changed his behavior before Abimelech, so that he drove him out, and he went away.
I will bless the LORD at all times; his praise shall continually be in my mouth.
My soul makes its boast in the LORD; let the humble hear and be glad.
Oh, magnify the LORD with me, and let us exalt his name together!
I sought the LORD, and he answered me and delivered me from all my fears.
Those who look to him are radiant, and their faces shall never be ashamed.
This poor man cried, and the LORD heard him and saved him out of all his troubles.
The angel of the LORD encamps around those who fear him, and delivers them.
Oh, taste and see that the LORD is good! Blessed is the man who takes refuge in him!
Oh, fear the LORD, you his saints, for those who fear him have no lack!
The young lions suffer want and hunger; but those who seek the LORD lack no good thing.
Come, O children, listen to me; I will teach you the fear of the LORD.
What man is there who desires life and loves many days, that he may see good?
Keep your tongue from evil and your lips from speaking deceit.
Turn away from evil and do good; seek peace and pursue it.
The eyes of the LORD are toward the righteous and his ears toward their cry.
The face of the LORD is against those who do evil, to cut off the memory of them from the earth.
When the righteous cry for help, the LORD hears and delivers them out of all their troubles.
The LORD is near to the brokenhearted and saves the crushed in spirit.
Many are the afflictions of the righteous, but the LORD delivers him out of them all.
He keeps all his bones; not one of them is broken.
Affliction will slay the wicked, and those who hate the righteous will be condemned.
The LORD redeems the life of his servants; none of those who take refuge in him will be condemned.
Psalm 34:1-22 ESV
When I consider this in my daily life I realize no human is seeking to destroy my life (although I am in constant battle with beings who DO desire to destroy me and I must lean on Jesus who gives me abundant life).
The Fortune 500 company for which I work regularly restructures and reorganizes itself in efforts to continue in business as effectively as it can.  This often means jobs are tenuous and a career in business of this size brings opportunities for fears.
Thankfully I find God's promise that the fruit of His Holy Spirit include patience, peace and joy.
But the fruit of the Spirit is love, joy , peace , patience , kindness, goodness, faithfulness,
gentleness, self-control; against such things there is no law.
Galatians 5:22-23 ESV
I'm happy for all the fruit listed here but when in a season of life where I don't directly determine the outcome those three can seem to be farthest from my grasp.  I'm taunted by demons and my own thoughts about being able to promise stability in my employment but thankfully God has given me encouragement by telling me about Himself.
Trust in the LORD, and do good; dwell in the land and befriend faithfulness.
Delight yourself in the LORD, and he will give you the desires of your heart.
Commit your way to the LORD; trust in him, and he will act.
He will bring forth your righteousness as the light, and your justice as the noonday.
Be still before the LORD and wait patiently for him ; fret not yourself over the one who prospers in his way, over the man who carries out evil devices!
Refrain from anger, and forsake wrath! Fret not yourself; it tends only to evil.
Psalm 37:3-8 ESV
David wrote this psalm late in his life.  He learned a simple but difficult habit; he trusted God and committed himself to God's plan and God's time of deliverance.  He definitely wasn't a passive man in his life and throughout his life he recognized God's blessings (2 Samuel 7:18-29 and 1 Chronicles 29:10-19).
My career may look successful in terms of professional accomplishments, salary or even longevity in corporate industry but I am totally dependent on God and His good will.  My life is set in His kingdom for His glory.  I can get sideways in my heart in an instant.  I try to work diligently to honor God, because my work is a measurement of my care for those given into my care and because it can be satisfying and pleasing to work but the work cannot stand being my purpose; it's just not valuable enough regardless of what I do.
We are going through another of those seasons and, all glory to God, my wife has shared that she sees peace and patience in me throughout this.  Sometimes peace can look like or even lead to apathy or laziness so I have to chase after God's Holy Spirit in directing me so that I continue to study, work and look for opportunities to be productive according to His good will.  I believe this will be the path to having joy, peace and patience in my life.
In all these things I'm confident that whatever I get doesn't come simply through my own hands; I'm blessed by God, certainly because He loves me but primarily everything I get is given to me by Him to glorify His holy name.  God does what He does to bring glory to His name.
The God who spoke the universe into existence and breathed stars holds my life in His hands.
I commit to take action, walking by His Holy Spirit, but when it comes to things beyond my control I will wait on the Lord.  My life is for His glory; He is my great portion; my Savior, my Redeemer, my Deliverer, my Sustainer, my God and King.
A Song of Ascents.
I lift up my eyes to the hills. From where does my help come?
My help comes from the LORD, who made heaven and earth.
He will not let your foot be moved; he who keeps you will not slumber.
Behold, he who keeps Israel will neither slumber nor sleep.
The LORD is your keeper; the LORD is your shade on your right hand.
The sun shall not strike you by day, nor the moon by night.
The LORD will keep you from all evil; he will keep your life.
The LORD will keep your going out and your coming in from this time forth and forevermore.
Psalm 121:1-8 ESV