Bon Jovi Said "It's My Life" But It Really Isn't
Therefore, confess your sins to one another, and pray for one another so that you may be healed. The effective prayer of a righteous man can accomplish much.
James 5:16 NASB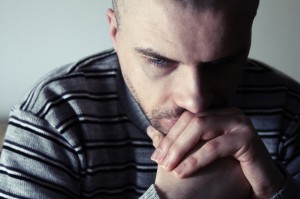 I can quickly forget how much I depend on God's mercy, his goodness and lovingkindness.  James gives direction on how to handle when someone is hurting or sick: come together, confess your faults and pray for one another (James 5:13-20).
Being in the company of other believing men, hearing them admit their weaknesses and confess their sins; all of us focusing on God's goodness and His mercy helps remind me of my dependence on God's goodness.  I shouldn't take the grace of God for granted.
It's easy to become swamped with what I see as the problems in my life until I'm reminded that my life isn't about me but about the holy, living God of creation.
All people experience pain and loss but God does miraculous work in transforming lives to bring glory to His Son, Jesus.  He heals sick, He restores marriages, He provides jobs, He sets people free from the penalties and lifestyles of sin.  He unshackles the captives and He brings healing where there's pain, loss and fear.  He does all this not because we earn it or deserve it but for His righteous name's sake.  He deserves to be revered and praised and honored and He is faithful to demonstrate how loving and generous He is.
Hearing my brothers' struggles isn't meant to lead me to the point of thinking "Oh, I'm so glad I'm not THAT GUY."  It is an opportunity to remember that my faults and pains are no more disasterous than those with whom I share a bond in Christ and I have an opportunity to pray for them and with them.  We don't solve problems, God does.  We surrender to an awesome God and seek His kingdom.
Sharing with my brothers in Christ is a way of resetting my expectations about the purpose of life.  It's a way for me to get to the point of James' when he says
Consider it all joy, my brethren, when you encounter various trials, knowing that the testing of your faith produces endurance. And let endurance have its perfect result, so that you may be perfect and complete, lacking in nothing.
James 1:2-4 NASB
That's not usually an easy place for me to get to but it is a valuable place for me to find and it's critical for me to truly experience joy and not just a temporary happiness based on some good circumstances.  I believe the process of learning to experience my life this way is sanctification.
The point of the end of James 5 is that we uplift one another in community and to the only living God; we turn our focus from ourselves to caring for and restoring each other.
The story of my life is of little value to anyone but the story of what God's done, what He's doing and what He's certainly going to do in my life is a story of powerful transformation.  People need that hope of a changed life, a life set free.
It's amazing how much of a blessing it is to follow God's precepts.  They truly and simply just work.  He had it right before Apple ever came along.