I'm Not What I Will Be
And I am certain that God, who began the good work within you, will continue his work until it is finally finished on the day when Christ Jesus returns.
Philippians 1:6 NLT
I
started off the other morning OK and found opportunities to demonstrate joy and peace.  Sometimes I deal with the opportunities well; sometimes not so much.
As Peter did, I took my eyes off Jesus, looked to the circumstances around me and I found myself floundering.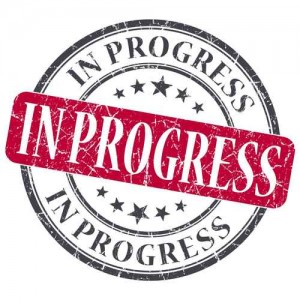 Things that I tried navigating as I got the family up, ready and on our way:
Kids woke up upset
Take out the dogs after I was dressed for work – got dirty
Take out the trash, also after getting dressed for work – dirty again
Low tire -> turned into two, then three – had to try re-inflating them before work – also dirty
A message about cell usage limit message (who's using that phone too much!?!)
Theology
What's Complete
Work Jesus did to pay for sin
My redemption from sin (salvation)
What's Left
Proclaiming Jesus to the world
Me learning how to approach God & worship Him
Warfare with Satan and demons
God's final judgement
New Heaven & Earth
None of these things were overwhelming; they were opportunities for me to trust Jesus and exhibit His power, His faithfulness and His peace.
I can't say that I was as successful as I want to be.  I can say with thanksgiving that I'm not finished learning how to recognize my Lord and stay focused on Him all the time.  I appreciate His mercy.
Jesus could perfect me now but that's not His goal.
I'm learning to be that salt and light by digging deep into God's Word and engaging other Christians.  I'm learning to be stronger, letting go of the things of this world that feel so important and hold fast to Him.
When I get it wrong His Holy Spirit is there to tell me and so are some of my brothers in Christ who walk with me through life.
I don't believe these are the trials James had in mind but they may be the path Jesus has me walking to teach and prepare me for things that will be bigger opportunities.  Faithful in a few things …
Count it all joy, my brothers, when you meet trials of various kinds, for you know that the testing of your faith produces steadfastness. And let steadfastness have its full effect, that you may be perfect and complete, lacking in nothing.
James 1:2-4 ESV
Thankfully, God will continue to make me more like Jesus.
My failures aren't His failures but, through the grace of God, His successes are mine!
Categories:
Attitude, Personal ramblings
attitude, faithful, fellowship, God, gratitude, Holy Spirit, Jesus, Perseverance, steadfast, trials, walk, worthily